The Realistic Fashion Doll With Stretch Marks and Freckles
Lammily promotes positive body image from an early age - in style.
Aug 11, 2015
When blogger Nickolay Lamm created his 3D print of a Barbie doll with realistic proportions back in 2013, he had no idea of the flood of positive feedback he would receive. After being featured by major news outlets around the world, people started asking the question: "Where can we get a doll like this?" After an exceptionally successful crowdfunding campaign backed by over 13,000 people, Lammily is now available for purchase online.

Named after her creator, Lammily is the first fashion doll made according to real female body proportions. The idea is to help children - girls and boys alike - develop a positive and realistic body image from an early age. As well as a normal physique, Lammily wears regular, casual clothes - like denim shorts and sneakers. The cherry on top is the Lammily Marks sticker set - a sheet of 38 reuseable stickers including cellulite, stretch marks, freckles, acne, scars, mosquito bites and grass stains. With these human-as-can-be stickers, children can make their dolls look just like the real women in their lives.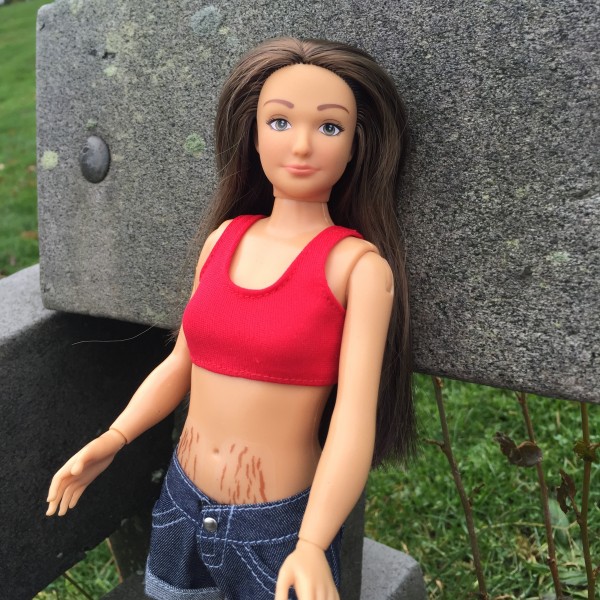 When it comes to clothes - she is a fashion doll, after all - Lammily's wardrobe inspires comfort, elegance and world travel. Each fashion pack represents a different world destination, including Exploring Rio, Rocking London and New York New York. And to further promote diversity, new dolls with varied racial backgrounds are scheduled for release in 2015.

To make a real impact, the real question is - what do kids think of this real Barbie? This video of a class of second-graders reacting to Lammily answers quite clearly: "I like her," "she looks like my sister," and "she's like a real person!" were the resounding reactions.



YOU MIGHT ALSO LIKE:
These Dolls Got Natural Makeovers - And Wowed the World
4 Major Brands That Decided to Stop Using Photoshop
How To Feel Comfortable in Your Own Skin [VIDEO]